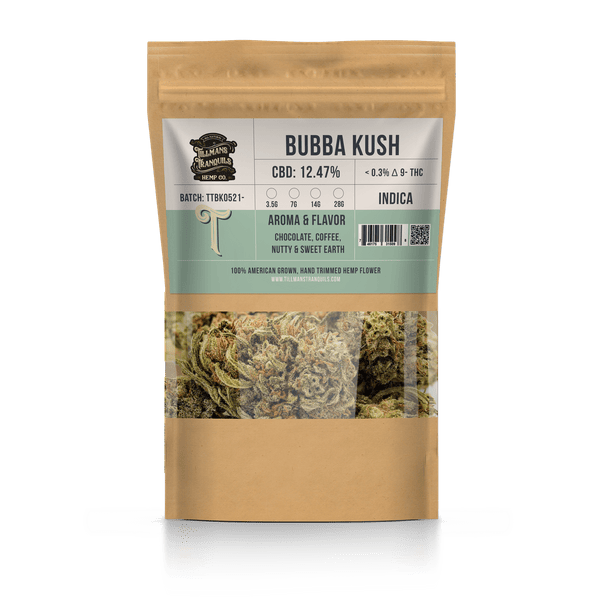 $30.00 – $150.00
Bubba Kush CBD Hemp flower is a blend from OG Kush & Northern Lights
Hand trimmed large green hemp buds with purple leaf clusters scattered throughout. A hybrid strain, but Indica dominant, which is why people like it for pre-sleep usage.
Hemp Strain Info: Indica Dominant
Taste: Mild
Aroma: Very strong aroma, of earthy Chocolate and Coffee
Feels: Full body mellowness
Grown Without Pesticides
Lab Tested
Grown in the USA
Bagged Flower is heat sealed for privacy
You got questions? Check into our Live Chat and see if we can help you. If not you can always reach us by email at info@tillmanstranquils.com
Orders are shipped almost as fast as you can say Tillmans Tranquils. Free shipping on all orders over $100.
Bubba Kush Strain Cannabinoid Profile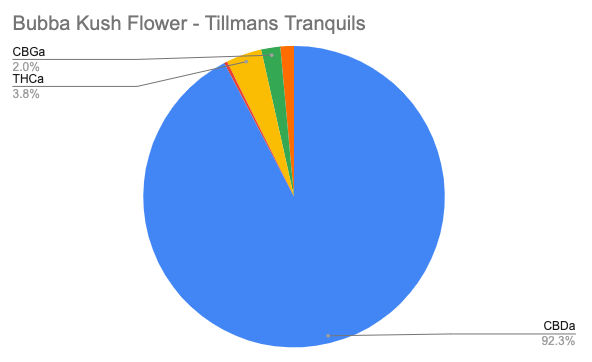 Bubba Kush CBD Flower Reviews